Residential and Commercial Metal Roof Experts
Are you thinking of replacing or upgrading to a metal roof for your home or business? Maybe you want to know more before making this investment? Then it's time to consult with the metal roofing experts at Caliber Construction!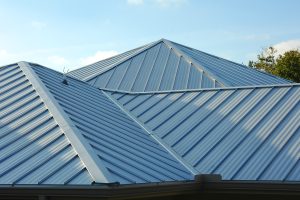 Caliber Construction specializes in metal roof installation and repair in Atlanta, GA. We offer fair pricing, guaranteed quality materials, and the best customer service so you can enjoy your roof worry free. From getting a quote for new metal roof installation or fixing an existing one, you can rest assured that you are in good hands!
What is a Metal Roof?
A metal roof is an excellent alternative to asphalt shingles because it offers an unmatched level of protection for your home. Metal roofs also provide excellent energy efficiency benefits that will save you on your monthly utility bills. Available in a range of metal materials from aluminum to galvanized steel, Caliber Construction is highly qualified to install any metal roof you desire.
Materials and Benefits:
o Copper – highly rust + corrosion resistant, one of the longest-lasting; one of the most aesthetically pleasing options based on client preference
o Aluminum – also highly corrosion-resistant, better for coastal areas with its high salt tolerance, generally the most expensive option
o Tin – roofing is strong and durable as well; tin roofing is generally a blend of tin and steel
Why a Metal Roof?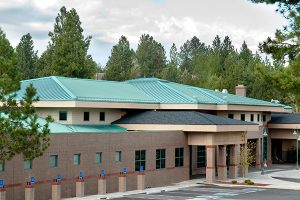 Metal roofs generally last up to or over 50 years, which is double the time of a standard asphalt roof which lasts around 25 years. Metal roofs are not as susceptible to algae or moss the way that asphalt roofs are. Also, in some cases, insurers offer discounts or lower premiums because the metal roof is less easy to damage from storms or fires. This deduction can be a great incentive to invest, despite metal roofs initially costing more to install.
The Metal Roofing Experts Who Can Help
Caliber Construction are the experts you can trust. Our team can work with any metal roof including:
o Copper roofing
 Copper roofing is lightweight and doesn't require additional installation support. Though it can corrode, it is rust-resistant and improves with age compared to asphalt roofing. When treated with a coating, it can be extra protected from the elements and prevent corrosion.
o Standing-Seam Metal
 Standing seam metal is preferred by most of our clients because it is shapeable to desired lengths, widths, and thicknesses; it can mimic shingles while being a much more durable and reliable product.
 The fasteners, which snap together, are concealed under the seams of the interlocking panels, which protects from weathering damage and lessen the chance of problems like leaks.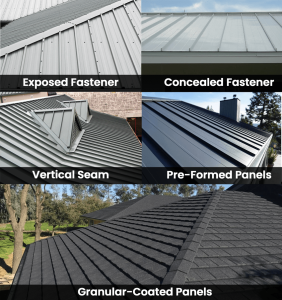 Caliber Construction uses the highest quality materials from leading manufacturers, so you never have to worry about the quality of your roof. Industry-leading warranties back the materials that they use. Our roofing crews are held to the highest standards and never cut corners when doing business. They treat each customer and home as though it was their own, ensuring safety and quality workmanship. Even if they did not initially install your metal roof, they'll come out and repair the one you have. Their goal is to provide top quality service to their clients.
Whether you are considering a metal roof for you home or need a quote for your commercial building, call Caliber Construction at 770-769-4070 today for a free non-obligation roof inspection and quote.
We're a family owned and operated GAF and Owens Corning certified roofing company that can handle all of your roofing needs and will back our work for years to come. We have installed new roofs and performed roof repairs for hundreds of homeowners in the Adairsville, GA area.  Let us know how we can serve you. 
Testimonils

Great communication from Jason and the project manager Orlando. Anytime I had a question or concern both of them were available by text or phone call. Good group of employees that take pride in their work and are willing to make changes to the project at short notice if needed. Will definitely use them again for any other projects in the future.
Find Us
7172 Adairsville Hwy 
Adairsville, GA 30103