Remodeling your bathroom can add thousands of dollars of worth to your investment. In fact the bathroom is one of the most important rooms that a prospective buyer will consider. Apart from an increase in monetary value, there is the intangible added value a remodeled bathroom will make to your home.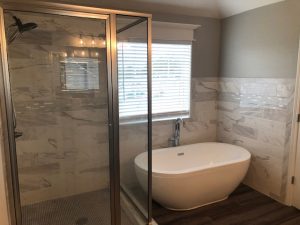 A bathroom remodel is one of the most important decisions one can make and requires deep consideration and understanding. Regardless of whether one is aware of all the intricacies and options that are contained within a bathroom remodel can be quite simply removed through utilizing the Caliber Construction's remodeling services. We have been remodeling bathrooms for over 20 years and have expert insight into materials, products, layout and functionality, making our team one of the most respected and renowned remodeling contractors available. Our team are committed from the outset to your bathroom remodeling needs.
FULL-SERVICE BATH REMODELING
A Full Service Bath Remodel is an extensive and intuitive service that Caliber Construction have continued to flawlessly deliver for decades.
BATHTUB TO SHOWER CONVERSION
A Bathtub to Shower Conversion from Caliber Construction has the ability to add functionality and positively change the aspect of the bathroom.
SHOWER TO SHOWER CONVERSION
Convert your old worn out shower into a beautiful new shower, complete with new shower walls and surround.
Testimonils

Great communication from Jason and the project manager Orlando. Anytime I had a question or concern both of them were available by text or phone call. Good group of employees that take pride in their work and are willing to make changes to the project at short notice if needed. Will definitely use them again for any other projects in the future.
Find Us
7172 Adairsville Hwy 
Adairsville, GA 30103