Caliber Construction is a local, family-owned roofing company providing roofing services to Acworth, GA and surrounding areas. Our roots are in the same community as most of our customers. We provide home and business owners in our community and throughout North Georgia with dependable, quality roofing services. We stand behind our work and treat all of our customers like we would want to be treated.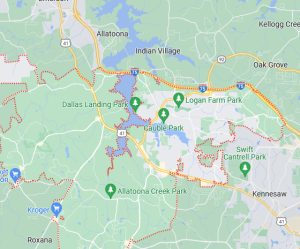 When you choose Caliber Construction, we will follow the process we've developed from years of roofing experience in the metro Atlanta area. The first step is to tear off the old shingles, underlayment, and any damaged flashings. Prior to that, our technicians will tarp areas around the house to protect damage to any plants, flowers, or bushes from debris. 
Once the old roof has been removed, we examine the entire wood framing and plywood of your roof to determine the condition and replace any rotten or unstable wood. We dispose of all the old shingles and roofing materials into a large dumpster that we will have at your property during the process.
Once we have thoroughly inspected the cleaned area, we will lay down the roof sheathing over the entire area that will provide a clean surface for the new shingles that will be installed and to add an additional barrier from any water to enter your home. Our roofing technicians will be working from the base towards the top of your roof. We will add new roof flashing which is made from thin metal in key areas like around chimneys and roof vents to route water away from the house preventing any future water leaks or roof damage. Roof flashing is necessary to protect the integrity of your roof between the roof planes.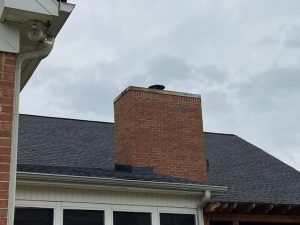 We will also replace or add any roof vents and add the ridge vent across the top . The roof ridge vent increases the proper air circulation in your attic and is the primary means of getting rid of hot air in your home. Next, new shingles are installed over the entire roof. Finally, there will be accents like roof vents, ridge caps, and a final cleaning will be performed. After the final cleaning and roof inspection is complete, your yard will be cleaned thoroughly for any materials, debris, or excess trash and haul it away. We will leave your home thoroughly cleaned so you can safely enjoy your new roof for many years to come. 
We work closely with our clients when it comes to their roofing needs. We understand the annoying aspects a leaky roof can put on someone financially but also the mental stress. Nobody wants to see their home destroyed and if you are located in Cobb county or the surrounding areas we can act fast to restore your home's roof before any major damage is done with our roof leak repair.
Google review:
I have used Caliber a few times now and each time I've been very impressed with their professionalism.
Finding a company you can not only trust to be honest but also do a great job is difficult but they check both those boxes.
We have some projects coming up and I will not hesitate to call them to do the work. I know they'll do a great job and I know they won't be ripping me off.
Jason the owner is very knowledgeable and friendly and their other workers that I've dealt with have been very easy to work with. Very deserving of the 5 stars!
– Jon Andrews
Google review:
Highly recommend. They quickly responded when I asked them quote on the project. They came out and thoroughly explained the details of the construction. They called prior to arrival and again after job completion to verify that I was satisfied with the quality of their work. Very clean, very fast, real professionals.
– Jeremy Tatum

Testimonils

Great communication from Jason and the project manager Orlando. Anytime I had a question or concern both of them were available by text or phone call. Good group of employees that take pride in their work and are willing to make changes to the project at short notice if needed. Will definitely use them again for any other projects in the future.
Find Us
7172 Adairsville Hwy 
Adairsville, GA 30103