Your home is the biggest investment for most people. And your roof protects your home and provides your family and where you spend most of your time. Your roof is the first line of defense that is protecting everything inside and your home's long term value. So maintaining your roof's quality and repairing any damage to your roof is the best protection for your investment. If you discover a leak in your roof or have roof damage from a recent storm, call Caliber Construction the roof repair experts Rome, GA for a free roof inspection and estimate today.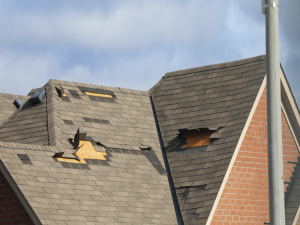 Some main causes of roof damage include: missing or cracked shingles, cracked flashing, old vents or heater stacks, or storm damage. Any of these can cause your roof to leak which can start small but can grow fast if left untreated. Sometimes you might be able to see damaged or missing shingles. But other times, you might not notice anything. That's why you should get your roof checked every year and keep your roof clean of debris like small tree limbs, pine needles, and falling leaves. It's also a good idea to make sure that your gutters are cleaned and to remove any obstacles that might stop the rain from flowing away from your roof and potentially cause damage to your roof. 
One common sign that you have roof damage is water marks on your ceiling. Water marks can be caused by plumbing issues in an upstairs bathroom or possibly caused by an upstairs appliance. But often they are caused by damage to your roof right above the area where you see the watermarks. Unless you have something that has impacted your roof, most of these start off small. But if left untreated, the damage will get worse and cost you much more. 
Common causes of roof damage include: 
Poor workmanship
Storm damage
Age of the shingles
Leaks around chimneys
Leaks around roof vent pipes
Damage to flashing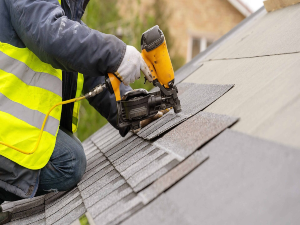 Whether you have storm damage, rotting, or poor previous installation, we can handle any roof repairs in Rome, GA and surrounding areas – residential or commercial. Call Caliber Construction at 770-769-4070 today for a free non-obligation roof inspection and quote. Offering high quality roofing services in Rome, Ga. for 15+ years. 
We're a family owned and operated GAF certified roofing company that can handle all of your roofing needs and will back our work for years to come. We have installed new roofs and performed roof repairs for hundreds of homeowners in the Rome, GA area. Let us know how we can serve you. 
Best Roof Repairs Rome, GA and Northwest Georgia for 15+ years.
Testimonils

Great communication from Jason and the project manager Orlando. Anytime I had a question or concern both of them were available by text or phone call. Good group of employees that take pride in their work and are willing to make changes to the project at short notice if needed. Will definitely use them again for any other projects in the future.
Find Us
7172 Adairsville Hwy 
Adairsville, GA 30103